Eclipse Aerospace gets a big boost, a 21st century seaplane and a turboprop back from the dead. TIM ROBINSON reports from Day 3 of the NBAA business aviation show.
Today's main highlight was the injection of equity and support into Eclipse Aerospace from Sikorsky Aircraft, itself backed by the might of United Technologies. Eclipse, which took over the support of the Eclipse 500 VLJ after Eclipse Aviation went bust, is now looking into putting the VLJ back into production. The equity investment, (an unspecified amount) not only includes cash, but marketing, sales and supply chain support in kind to Eclipse - a massive vote of confidence in the aircraft's future. Judging by the crowds that swamped the Eclipse stand for this announcement - there is a lot of goodwill within the community for Eclipse to succeed.Says Mason Holland, owner of Eclipse Aerospace: "Its not longer a matter of will Eclipse succeed - its now the degree of success."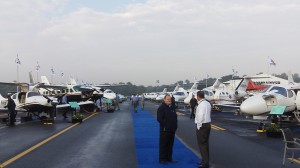 With press conferences at the Georgia World Congress Center now starting to thin out it was time to visit the static display, at DeKlab Peach Tree Airport some 30 minutes away from downtown Atlanta. Here some 100 aircraft were on display, with not only the major manufacturers present, but also second hand specialists promoting used aircraft.
Not content with going head to head with Cessna, Hawker Beechcraft and others, the latest target for Embraer is with the widebody VVIP market currently dominated by Boeing and Airbus. Embraer's answer is the Lineage 1000 - a modified E190 airliner and one that is priced nearer a G550 or Global Express at $52m with options. Though slimmer than a BBJ, Colin Steven, vp sales & marketing, Europe, Middle East and Africa, argues the marginal extra cabin width on a Boeing is wasted as the VVIP interior is "you can do more with the length". Embraer have paid special attention to the interior, which was designed by UK consultancy Priestmangoode. Inside it is divided into five 'zones' to allow maximum flexibility and privacy. The zones can include a full six-person dining area, galley, lounge, bedroom and even an entrance lobby, where the crew can relax and enjoy downtime - seperated from the passengers. Up to 20 options per zone can be selected, giving a possible 6,000 combinations of luxuary interior. The Lineage 1000 also features a heated floor - should you want to walk around barefoot at 35,000ft. Finally the Lineage 1000 also features a large walk-in baggage compartment at the rear - allowing access in flight. Another advantage, says Steven, is that it is certificated for steep approaches at London City - opening up this key airport.
"The most advanced amphibian on the market today" - is how Dornier Seaplane describes the Seastar CD2. Orginally designed in the mid-80s this composite amphibian looks every inch a classic Dornier product. Now to be produced in Canada, south of Montreal, Dornier expect to find a niche market for this aircraft. It has already attracted more than 40 orders and and Dornier will break ground on its new production site in the spring of 2011. Production will begin in the fourth quarter of 2011, with the first production airframe expected off the line in 2012. Dornier is also in the process of choosing a new glass cockpit for the production version - with new avoinics to be installed from the seventh production aircraft onwards.
Now on a more solid footing and working towards the future is the six-person single-engine Kestrel turboprop. This aircraft was orginally the Farnbrough F1 back in 2001, where it was envisaged as the backbone of an air taxi sector. Sadly that ambitious plan came to nothing,and since then the saga has been almost like a soap opera. However with plans now scaled back to focus on the US market, and the founder of Cirrus Aircraft Alan Klapmeier now on board, Kestrel is confident that the formula of an aircraft able to get heavy loads in and out of small airfields is the right one this time. Says Adrian Norris, Kestrel Aircraft ceo and chairman "All aircraft are compromises - but this one is less of a compromise".
While the question on many people's lips is when will the recovery start - one canary in the coal mine is the amount of merger and acquistion activity going on. According to Stoneworth Finiancial, a US investment bank focussed on the GA/business aviation sector, things are now 'heating up', with increased activity - a postive sign. In particular, says Charles Harris, principal, points to "stability" as a key requirement and something which adds to confidence. This NBAA then may not be the upturn yet, but the sector is now stable and people are able to plan - which itself is generating optimism.
And finally…
Got a $50m expensive bizjet parked up at the airport? Worried about security,'ramp rash' or tampering with this expensive asset? Fret no more with the Sentinel 100L RC aircraft security system from France's Oviv Security Technologies. This system, placed under a parked aircraft, uses radar to detect motion and activate four cameras giving 360degree all-round coverage. But here's the clever bit - the system is also integrated with GPRS and smartphones - sending text messages or even allowing a pilot to check via an app the cameras whether it is someone up to no good, an accident or a stray dog that has triggered it. As well as security on remote airfields in the developing world where sometimes drugs have been planted inside wheel wells the system is also highly attractive in reducing insurance premiums - with accidental ground damage a major headache. Priced at $160,000 the Sentinel will give owners of these expensive assets peace of mind.
from the Royal Aeronautical Society
Do more:
REQUEST: a subscription to Royal Aeronautical Society Publications
APPLY: to become a member of the Royal Aeronautical Society
MORE: about Royal Aeronautical Society publications
Do you know somebody that this would appeal to? Share it on your favourite services below