New product launches, maintaining R&D and a $1bn order from NetJets were among the themes of the first day of the NBAA business aviation convention in Atlanta, Georgia. TIM ROBINSON reports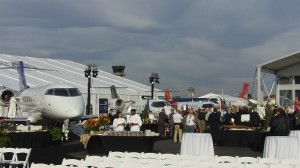 When is the right time to launch a new bizjet? The answer according to Bombardier, Cessna and Hawker Beechcraft is right now. With development time factored in, these manufacturers calculate that by the time they will hit the market, demand will have returned and the aircraft will sell in large numbers.
As noted already in the preview - Bombardier has used the show to launch not one, but two more members of its Global long-range business jet family. The Global 7000 features a larger 'four-zone' cabin, GE Tech X engines and a new wing to push the range out to 7,300nm. Thiswould allow non-stop flights with ten passengers between destinations such as New York and Dubai. The Global 8000 meanwhile goes even further with a range ofs 7899nm - the longest legged bizjet ever - putting city pairs such as Sydney and Los Angeles within reach. Customers such as charter operator Vistajet, who was present at tonight's exclusive launch are already it seems, excited about the prospect of these new long-range aircraft.
Cessna too unveiled a new product in the form a rebooted Citation X. Now called the Citation Ten it features a slightly longer fuselage, elliptical winglets and updated Rolls-Royce AE3007C2 to help the Ten win back on to the X's record as the fastest bizjet on the market. Cessna too have been busy on the inside with a new Garmin 5000 glass cockpit, that looks like it belongs in a stealth fighter and a cabin management system that uses fibre-optics. First flight of the 'Ten' says Cessna will be in December 2011 with entry into service in the third quarter of 2013.
Finally Hawker Beechcraft also used the first day to launch its new light jet, the Hawker 200. This aircraft, is a renamed and revamped Premier II that Hawker Beechcraft have 'rebooted' after significant consultation with customers. The result says the company is an economical, speedy light jet with a wide cabin cross section. The company also revealed its King Air 250 - the latest variant of the best selling turboprop - this time with increased short-field performance - opening up another 1,100 airfields worldwide.
But it wasn't just new aircraft. Embraer sealed the deal of the day with an order "in excess of $1bn" for 125 Phenom 300s from fractional operator NetJets. The deal breaks down in 50 firm orders and 75 options, and says David Sokol, chairman and ceo of NetJets advances its goal to move torwards just two types of light jet in the fleet. First delivery of the Phenom 300 Platinum Edition (exclusive to NetJets) will be in 2013.
Gulfstream meanwhile had brought two aircraft to NBAA - the flagship G650 (now outfitted with a new cabin interior) and the smaller G250 which had made its way all the way from Tel Aviv. On the G650, Gulfstream has entered the world of 'apps' with a cabin management system that can be controlled by an iPod touch /IPhone. Interestingly, while supersonic bizjet research was not mentioned in the main presentation, in the Q&A, Joe Lombardo, president noted that the company was still looking at this - with the key point being flight over land and meeting any future regulations.
Other firms too are maintaining their R&D. Rockwell Collins in a press briefing during the first day revealed it spends some 20% of revenues on R&D. The fruits of this research were evident in its launch of Ascend - an integrated flight operations information sychronisation. This integrates all the back-office functions like flight-planning, dispatch, fuel buying, and even maintenance functions into one-stop service. Rockwell envisage it keeping corporate owners and operators automatically updated in the future - massively simplfying life and generating efficencies. The company also revealed new details on its Pro Line Fusion glass cockpit - set to equip the CSeries and MRJ among others. In particular the Fusion now boasts synthetic 3D terrain overlaid on the HUD - with airports being visible as 'domes' massively increasingly situational awareness. Further on in the future things could get even more exciting - says Greg Irmen, vp and general manager avionics - who predicts that one day the entire windshield could be used as a HUD.
Also inventing the future was Dassault Aviation - which was detailing its work on what it calls a 'world first' a PLM/real-time engineering sim. Of course enginneering and computer validation models are not new - but Dassault is confident that here it is not only leading the aerospace industry - but other industries as well. In short, the computing power of today's processors means that the same digital simulation of the aircraft can not only be used to place wiring, but also check centre of gravity and even the fuel tanks be filled virtually with fuel (and the CofG adjusting in real time.) Expect to hear more about this breakthrough in the future.
And, while business aircraft manufacturers are bemoaning the second-hand aircraft market and the fact customers are hanging onto aircraft longer and longer - one company MRO specilaist StandardAero was reporting large growth in avoinics upgrades. StandardAero has also its eye on emerging markets in Asia-Pacific for MRO facilities and is looking for 'world-class' local partners to exploit these growing bizjet markets.
And finally…
The first day of NBAA 2010 was met with a sense of excited nervousness. Like Phil the Groundhog in Groundhog Day, the mood of show could be a barometer for confidence in the sector. Should the downturn persist or even deepen - then all bets would be off. So what do the companies think? Honeywell in its ten-year forecast predicts that there will be no recovery before 2012. Dassault's Charles Edelstenne, meanwhile although he said he was seeing 'encouraging signs of commericial activity' said the indudstry needs to be prepared for "another year of slow sales". Gulfstream for its part, was bullish on the large cabin market - which it says is driven by the emerging economies. David Sokol of NetJets was positive too saying "the worst is behind us". However Hawker Beechcraft chairman and ceo Bill Boisture agreed with the original forecast, saying that he does not anticipate a recovery until late 2011/early 2012. The next few days then, could be vital in returning extra confidence to this embattled sector.
from the Royal Aeronautical Society
Do more:
REQUEST: a subscription to Royal Aeronautical Society Publications
APPLY: to become a member of the Royal Aeronautical Society
MORE: about Royal Aeronautical Society publications
Do you know somebody that this would appeal to? Share it on your favourite services below