"The most prestigious and long-standing awards in global aerospace honouring achievement, innovation and excellence"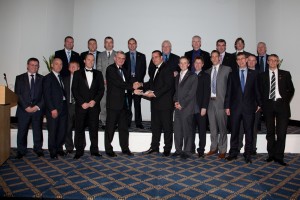 The Royal Aeronautical Society has been honouring outstanding achievers in the global aerospace industry since 1908, when Wilbur and Orville Wright came to London to receive the Society's first Gold Medal. In the years that have followed, honouring world aerospace achievers has become a permanent tradition of the Society. The Society's awards programme has rewarded individuals and teams who have made an exceptional contribution to aerospace. Whether it be for a single outstanding contribution or achievement, a major technical innovation, for exceptional leadership, long and valued service, or for work that will further advance aerospace.
The closing date for the 2011 nominations is fast approaching!
Closing date 31st March 2011
If you know any individual or team who you think are worthy of a medal or award contact Doreen Warner +44 (0) 20 7670 4312 or [email protected].
For further information about medals and awards visit our website and complete the nomination form.