If you've ever wanted to know the behind the scenes story of Flight Testing at the Boeing this lecture will take you there.  The lecture covers some of the most dynamic, risky and interesting testing done to date on the 787 and 747-8 programs.
Go Direct to the Audio Recording
The lecture is in three parts: 747-8, 787 and a small section on common type rating between the 787 and 777.  Capt Santoni relates his personal experiences on the types of testing shown as he has either participated in the actual test or has done similar flights on other models.

(If the audio player does not appear below, click the above link to download the lecture recording)
Audio clip: Adobe Flash Player (version 9 or above) is required to play this audio clip. Download the latest version here. You also need to have JavaScript enabled in your browser.
Recorded: February 1, 2011
About the speaker:
Capt Frank Santoni
Chief Test Pilot, Boeing Commercial Airplanes & Boeing Test & Evaluation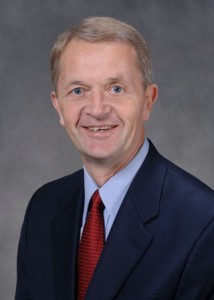 Capt Frank Santoni is Chief Test Pilot for Boeing Commercial Airplanes and Boeing Test & Evaluation. In this position, Santoni leads a team of test pilots, systems operators and support staff who are responsible for test flights for all new and derivative airplane models.  His team is also responsible for overseeing the flight operational safety, training and flight procedures development for all Boeing aircraft.
Frank previously held the dual role of Director of Flight Operations and Chief Test Pilot.  Prior to this he was Chief Test Pilot for the 777 Program, a position he held since 1996. Santoni was involved in the 777 Program since its inception. During the design and test phase of the 777 development his assignments included: Chief Pilot during certification and testing of the 777-300ER, 777-300, and 777 GE engine programs. He was also lead pilot for the first 777 around-the-world record flight.
Frank joined the Boeing Flight Test organization in 1980 as a production pilot and has conducted Boeing and customer acceptance flights on all Boeing airplanes. In 1989, he became a senior engineering test pilot. Santoni is rated to fly the 727, 737, 747, 747-400, 757, 767, 777, A320, T-33 and CE500 airplanes.  He is also currently flying the 787 and 747-8 during the Certification Test Programs on each of these airplanes.
Prior to joining Boeing, Santoni was a U.S. Navy pilot. His experience includes flying attack A-4 and A-6 aircraft on the USS Kitty Hawk.
He is a member of the Society of Experimental Test Pilots and a Fellow of the Royal Aeronautical Society.
Frank holds a Bachelor of Science degree in Aerospace Engineering from University of Maryland, and a Master of Science degree in Aeronautical Systems from the University of West Florida. He is married with three children, and his hobbies include tennis, skiing, travel and gardening.
Lecture Recorded: Feb 2011
Royal Aeronautical Society Named Lectures
Do More
BROWSE: more recorded lectures
LEARN: more about the Royal Aeronautical Society lecture events
APPLY: to become a member of the Royal Aeronautical Society
Know somebody this would appeal to? Share it on your favourite services below