Day 1 aviation news highlights from the Asian Aerospace 2011 exhibition held in Hong Kong.

Lucky for some
Even before the show had its official VIP opening - a short-notice media briefing had invited the aviation press to an Air China/Boeing media briefing. This turned out to be an order for five 747-8Is from China's flag carrier. No delivery date was set for these aircraft apart from that it would be in the next three years. It seems, that Boeing's new 'lucky' Asian orange/red 747-8I roll-out livery has already proved its worth.
Drumming up business
The official opening of the show, meanwhile, saw Lion dancers and traditional Chinese drummers escort VIPs onto the stage for the ribbon cutting ceremony. This year, it was noted, it was especially significant for Hong Kong – celebrating its 100th anniversary of powered flight. The growth continues apace. Since the new airport opened in 1998 air traffic has almost doubled. Meanwhile, the show itself is going from strength to strength with the static line-up (22 aircraft) at this show three times the number at the inaugural Asian Aerospace in 2007. Officials are also extremely proud that 'local boy' Tony Tyler, CEO of Cathay Pacific, will be moving on to head up IATA – giving an Asian-Pacific voice to the world's airline association as the region provides the driving force for global recovery.
HNA orders 38 Boeing widebodies
In another press conference, China's Hianan Airlines Group (which also includes shipping and insurance arms) made Boeing, Dassault and Gulfsteam's day with MoUs for 48 aircraft – 38 of them being widebodies from Boeing. The order from HNA's Hong Kong Airlines comprised 32 Boeing 787 (two VIP versions) as well as six 777F cargo aircraft – in a deal worth over $8bn at list prices. For their part, Dassault and Gulftstream secured MoUs for five business jets apiece – Dassault for Falcon 7xs and Gulfstream for G450/550s.
Bombardier boosts Chinese aftermarket services
At its press briefing, Bombardier shared its predictions for the rapidly growing Chinese business aviation market, which it forecasts will need some 600 jets over the coming decade. However, David Dixon, Regional VP Sales, Asia-Pacific, Bombardier Business Aircraft, warned that this prediction may be conservative – and 'understated' – given it was estimated at only 200 bizjets only two years ago. He noted – "There are no business schools that teach you" how to predict this sort of growth.
He also noted that as China moves to become a net investor with worldwide interests in South America, Africa and elsewhere – this will in turn drive demand for long-range business jets – with Bombardier's new long-legged Global 7000/8000 products well placed to exploit this.
Hong Kong Airport keeps growing
As noted above, Hong Kong's International Airport is also growing strongly and it is already taking steps to cope with demand. In 2013 a new cargo terminal for Cathay Pacific will boost cargo capacity from the current 4.8m tonnes annually to 7.4m tonnes. It will also boost its ability to handle passenger growth with a new midfield 73,000sq m central concourse in 2015. This development will include 20 additional stands – some of them for A380-class aircraft.
Japan eyes a piece of the action, too
While all eyes were on Greater China's aerospace ambitions – whether it be aircraft manufacturing, airlines or airports, Hong Kong's status as an Asian world city also means the show attracts those elsewhere in Asia-Pacific. Japan's Mitsubishi, for example, briefed journalists on the status of its MRJ regional jet programme – now with its first US order under its belt. From the presentation slides it is clear that Mitsubishi has Embraer in its sights – claiming that the MRJ90 will be 40% quieter and produce 20% less CO2 emissions than the rival E190. However, while it is keen to take on Embraer – Mitsubishi, so far, is happy not to challenge Airbus or Boeing. Its MRJ100X announced in 2009 is still under study. Deliveries of the MRJ90 will begin in 2014, with a first flight pencilled in for the middle of next year.
The company also gave journalists a brief tour of its cabin mockup which features large luggage bins, LED lighting and slimline seats (developed in-house) that are, says the company, some 3-5kg lighter than (older) standard regional jet seats.
And finally…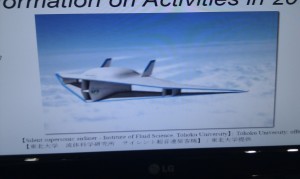 Browsing the halls today, one came across this concept on Japan's Miyagi region stand. Looking rather like a cross between an A-12 stealth bomber and something that Captain Scarlet would pilot, it is in fact a concept from local Tohoku University for a low-noise supersonic airliner. Closely separated upper and lower wings that meet at the wingtips, however, mean it is technically a biplane. After the airship then – is the biplane due a 21st century reboot?
Watch out for further reports on Asian Aerospace on aerosocietychannel and follow the Editor @RAeSTimR on Twitter for all the latest news.
from the Royal Aeronautical Society
Do more:
REQUEST: a subscription to Royal Aeronautical Society Publications
APPLY: to become a member of the Royal Aeronautical Society
MORE: about Royal Aeronautical Society publications
Do you know somebody that this would appeal to? Share it on your favourite services below